Itinerary
I T I N E R A R Y

9 days / 8 nights

DAY 1: ARRIVAL IN MAUMERE
Arrival from Bali in Maumere either in the morning or in the early afternoon. Our local guide will pick you up from the airport. Transfer to your beach resort hotel where you can spend the rest of the day on the beach. In the early evening introduction to the tour in the restaurant or lobby of our hotel
Overnight at a beach resort in Maumere.
DAY 2: MAUMERE – MONI
Shortly after we left Mau
mere, our car climbs up the winding street to
the Maria Statue in the hill country high above Maumere. The statue is similar to the Christus Statue of Rio de Janeiro. From the mountain you
have a wonderful view across the
Sikka regency. Afterwards we continue our trip to the village of Sikka on the south coast of Flores, once the seat of the king of East Flores. At Sikka one can find the oldest portuguese church of Flores. Find out how old ladies weave the traditional fabric, called Ikat. We also visit the small village Wolowaru and explore its traditional houses. In the late afternoon we arrive at Moni.
Overnight in a guest house at Moni
DAY 3: MONI - KELIMUTU – RIUNG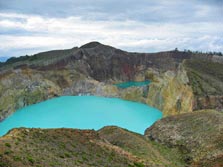 Early morning at 4 o'clock or a little bit later we drive up to the Kelimutu Volcano to see the Three Coloured Lakes when the sun slowly appears at the horizon. Upon arrival at the parking terrain we take a walk for about 1,5 kilometers and ascend 127 steps to the top. If the weather allows during this time of the year, we will enjoy the great view of Kelimutu's light green, brown and black lakes before we continue our tour to Ende and Riung. After Ende there is a unique beach with thousands of blue/green pebbles. One can find these type of stones only in this special small area of Indonesia. People from Bali and Java used to import them to beautify paths in their gardens or to make paving stones.
Afterwards we travel through the driest part of Flores. A wide grasland with hills and occasionaly wooden settlements. If you wouldn't know already that you are in Indonesia, then you might think you travel to the hill country of Wyoming South Dakota.
Overnight at Riung
DAY 4: RIUNG
Today we explore the Seventeen Islands National Park by boat. Don´t get
surprised when the captain suddenly claps his hands. Thousands of bats leave their trees and
darken the sky. It is a fantastic spectacle which you won't forget very soon. Afterwards we tr
a
v
el along uninhabitat islands with white sandy beaches. Time for snorkeling and to explore the
underwater world. We continue our boat cruise and go on land of one of these wonderful Robin
son Crusoe islands. We stroll around on the beach and who is in a
good mood can explore the tiny island. Late afternoon we are back in Riung, Through a majestic allee of coconut trees we walk back to our accommodation.

Overnight at Riung
DAY 5: RIUNG - BAJAWA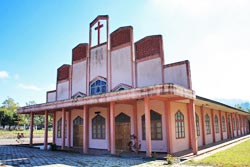 In the morning we head towards Bajawa.
Bajawa is a small and quiete town settled on a plateau between high vulcanoes. This area is full of traditional culture and here you can find all the famous traditional Megalith-Villages.
Do you need a good treatment for your health condition?
Then you shouldn't miss the hot sources of Soa. Jump into the natural whirlpool, play or sit in the warm river, let the warm water fall down on your body under the cascade or just swim in the big natural swimming pool of slightly sulfurous warm water. A delight you won't have every day!
Late afternoon we arrive at Bajawa. Time for exploring the tiny clean city. Bajawa is located 1.200 m above sea level. Excellent conditions to grow vegetables and herbs. During the night it could be very chilly.
Overnight at Bajawa
DAY 6: BAJAWA - RUTENG
Today we enjoy a diversified day. Early in the morning we drive south towards the sea. Along the way to the most unique and obiviously best-preserved megalith village of Bena you will already see many more or less intact traditional villages. We approach the vulcano Mt. Inerie, a vulcano like in a picture book. It appears in its full size close infront of us. Bena is nestled at its food. We are almost sure, you have never seen such an impressive traditional village where the villagers still keep their habits and live their daily life.
If there still is enough time we also explore the village of Gurosina - a hideaway off the beaten path.
Then w
e travel up and down mountains, we reach twice the coast line before we arrive at our final destination of the day: the administration city of Ruteng. At Aimere we have a short break - not to be confused with 'Almere' in the Netherlands - to see the traditional way of burning 'Sopi', a hard liqueur made of palm tree fruits. In Mbolata we stop for a drink on the beach. There will be enough time to take a bath in the warm water of the Savu Sea or for a sun bath or stroll on the sandy beach.
Overnight at Ruteng
DAY 7: RUTENG - LABUAN BAJO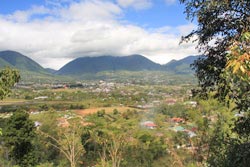 Ruteng is a small town in the mountains surrounded by rice terraces. It has a chilly climate. If the weather allows we go up to Golo Curu, the 'Welcome Mountain' of Ruteng. It is a beautiful vista point from where you have incredible views to Ruteng and the mountain range in the back and to thousands of spectacular terraced rice fields in the front.
We continue our journey to Cancar and explore the beautiful panorama of the spiderweb rice fields surrounded by green hills.
From 1.200 meter above sea level we descend slowly to the west coast of Flores. We pass huge forests of candlenut trees and the flat and impressive rice plateau of Flores.
Overnight at Labuan Bajo
DAY 8: KOMODO NATIONAL PARK – RINCA
We pick you up from your hotel in t
he morning and bring you to the harbour of Labuan Bajo. After you took your snorkeling equipment you board the local, wooden buginese boat and travel along the coast to Rinca Island in the Komodo National Park. Many uniques picturesque small islands with white sandy beaches cross your way. when you arrive at Rinca, the ranger who accompanies you during your island trek, is already waiting for you. He explains everything about the life and behaviour of the Komodo Dragons. After our hike we take a short rest at the National Park Headquarter before we do snorkeling and sightseeing on the way back to Labuan Bajo. During this tour a lunch package will be served on the boat.
Overnight in a small and good hotel.


DAY 9: DEPARTURE or EXTENSION IN LABUAN BAJO

After breakfast we deliver you to the airport for your flight to your next destination.

Itineray subject to change without any prior notice