Itinerary
I T I N E R A R Y
7 days / 6 nights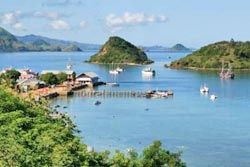 DAY 1: ARRIVAL IN LABUAN BAJO
Arrival from Bali in Labuan Bajo either in the morning or in the early afternoon. We will pick you up from the airport and transfer you to your hotel. If you like you can spend the rest of the day in your hotel or you explore the small city of Labuan Bajo by yourself. In the early evening introduction to the tour at the Flores Komodo Expedition office in the center of Labuan Bajo. Afterwards dinner at a local restaurant.
Overnight in a standard hotel in the city with AC.


DAY 2: KOMODO NATIONAL PARK - RINCA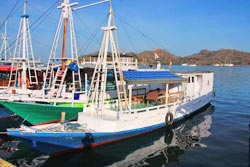 Pick up from your hotel in the morning and transfer to the harbour of Labuan Bajo. After you took your snorkeling equipment you get on the local, wooden buginese boat and travel along the coast to Rinca Island in the Komodo National Park. Many uniques picturesque small islands with white sandy beaches cross your way. Arrived at Rinca, the ranger who accompanies you during your trek on the island, is already waiting for you. He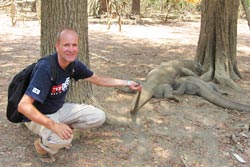 explains everything about the life and behaviour of the Komodo Dragons. Afterwards we take a short rest at the National Park Headquarter before we do snorkeling and sightseeing on the way back to Labuan Bajo. During this tour a lunch package will be served on the boat.
Overnight in a standard hotel in the city with AC.
DAY 3: LABUAN BAJO – RUTENG
Our Flores Komodo Expedition tour guide picks you up from your hotel In Labuan Bajo early in the morning. We drive overland through a beautiful scenery of mountains and valleys towards Ruteng.
At Cancar we explore the beautiful
panorama of the spiderweb rice fields surrounded by green hills. Ruteng is a small town in the mountains. It has a chilly climate. If the weather allows, we go up to Golo Curu, the 'Welcome Mountain' of Ruteng. It is a beautiful vista point from where you have incredible views to Ruteng and the mountain range in the back and to thousands of spectacular terraced rice fields in the front.
Overnight in a guest house or in a monestry.

DAY 4: RUTENG – BAJAWA

Today we enjoy a diversified day. We travel up and down mountains, we reaches twice the coast line before we arrive at our destination the cultural city of Bajawa.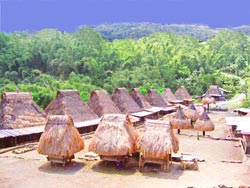 Before Aimere - not to be confuesed with 'Almere' in the Netherlands - we have a short break to see the traditional way of burning 'Sopi', a hard liqueur made of palm tree sap.

Bajawa is a small and quiete town settled in a basin surrounded by high vulcanoes. This area is full of traditional culture and here you can find all the famous traditional Megalith-Villages. The city is located 1.200 meter above sea level. Excellent conditions to grow vegetables and herbs. During the night it could be very chilly.
Overnight in a small Standard Hotel or Guest House

DAY 5: BAJAWA - MONI / KELIMUTU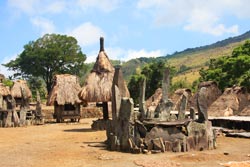 In the morning we head towards the south coast. Along the way to the most unique and obiviously best-preserved megalith village of Bena you will already see many more or less intact traditional villages. We approach the vulcano Mt. Inerie, a vulcano like in a picture book.It appears in its full size close infront of us. Bena is nestled at its food. We are almost sure, you have never seen such an impressive traditional village where the villagers still keep their habits and live their daily life.

Do you like to see another Megalith Village hidden away from the public? Then you shouldn't miss Guronsina.

We continue our Flores overland sightseeing tour to Moni. We travel on a scenic road from where you can enjoy the beautiful panorama of the landscape with its high mountains and deep valleys. Stops will be made at Mata Loko to visit the paraoke, a catholic seminary and the impressive building of the recreation and conference center for priests. Before Ende there is a unique beach with thousands of blue/green pebbles. One can find these type of stones only in this special small area of Indonesia. People from Bali and Java used to import them to beautify paths in their gardens or to make paving stones.
Overnight in a guest house at Moni

DAY 6: MONI – KELIMUTU – MAUMERE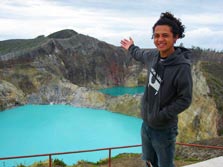 Early morning at 4 o'clock or a litte bit later we drive up to the Kelimutu Volcano to see the Three Coloured Lakes. Upon arrival at the parking terrain we take a walk for about 1,5 kilometers and ascend 127 steps to the top. If the weather allows during this time of the year, we will enjoy the great view of Kelimutu's light green, dark green and black lakes.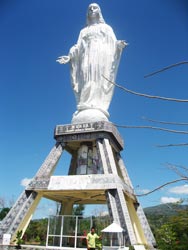 Afterwards we continue our trip to Wolowaru and explore its traditional houses. We also visit the village of Sikka on the south coast of Flores, once the seat of the king of East Flores. At Sikka one can find the oldest portuguese church of Flores. Find out how old ladies weave the traditional fabric, called Ikat.
Overnight at a Beach Resort
DAY 7: DEPARTURE or EXTENSION IN MAUMERE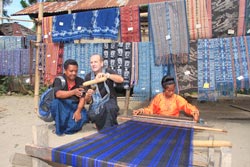 After breakfast we deliver you to the airport for your flight to your next destination. It is also possible to extend your holiday in Maumere.

Itineray subject to change without any prior notice