Itinerary
I T I N E R A R Y
3 days / 2 nights
DAY 1: LABUAN BAJO – BAJAWA (9 hours)

Our Flores Komodo Expedition driver picks you up from
your hotel in Labuan Bajo early in the morning. We travel on winding steep roads through a beautiful scenery of mountains and valleys towards Ruteng.
At Cancar we explore the beautiful panorama of the spiderweb rice fields surrou
nded by green hills. Afterwards you travel via Ruteng to Bajawa. On the way we have a short stop in the area of Aimere to watch the "arak" burning process in one of the local destilleries.
Bajawa is a small and quiete town settled on a plateau between high vulcanoes. This area is full of traditional culture and here we can find all the famous traditional Megalith-Villages. Bajawa is located 1.200 meter above sea level. Excellent conditions to grow vegetables and herbs. During the night it could be very chilly.
Overnight in Bajawa

DAY 2: BAJAWA - MONI / KELIMUTU (6 hours)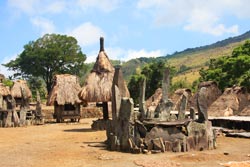 In the morning we head towards the south coast. Along the way to the most unique and obiviously best-preserved megalith village of Bena we will already see many more or less intact traditional villages. We approach the vulcano Mt. Inerie, a vulcano like in a picture book. It appears in its full size close infront of us. Bena is nestled at its food.

We continue our Flores overland sightseeing tour to Moni and we travel on a scenic road from where we can enjoy the beautiful panorama of the landscape with its high mountains and deep valleys. Before Ende there is a unique beach with thousands of blue/green pebbles. One can find these type of stones only in this special small area of Indonesia. People from Bali and Java used to import them to beautify paths in their gardens or to make paving stones.
Overnight in a guest house at Moni


DAY 3: MONI – KELIMUTU – ENDE (4 hours)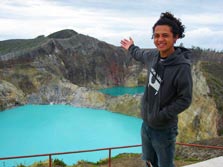 Early morning at 4 o'clock or a litte bit later we drive up to the Kelimutu Volcano to see the Three Coloured Lakes. Upon arrival at the parking terrain we take a walk for about 1,5 kilometers and ascend 127 steps to the top. If the weather allows during this time of the year, we will enjoy the great view of Kelimutu's light green, dark green and black lakes.
Around seven in the morning we head back to our accommodation for breakfast and afterwards we travel back to Ende to catch the flight to Bali or Labuan Bajo. We arricve in Ende around 11:30 noon.
Itineray subject to change without any prior notice