---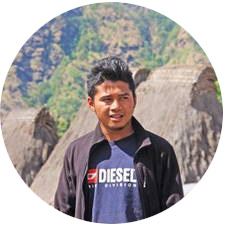 Flores Komodo Expedition is a specialised tour organiser located in Flores West-Manggarai. We offer several tours on Flores and Komodo and we have also explored many beautiful Indonesian islands between Sumatra and Papua as there are Java, Bali, Lombok, Sulawesi, Sumbawa, Sumba, Komodo, Flores, Lembata and West Timor. Our tours are sustainable and ecologically oriented. We always try to involve the local communitiy in our activities.
We provide:
* Tours by private car with driver or also accompanied by a guide
* Expeditions in rural areas off the beaten path

* Guided volcano-, nature hikes and bicycle tours
* Boat crusises, snorkeling expeditions, cultural events
* Tailor made tours for families with young children
---
Last Updated on July 29 2016
---
The jewel of our fleet: Komodo Explorer

The best and biggest boat of the "Superior Boats with Cabins" is our "Komodo Explorer". It has two cabins to accommodate one to eight persons. In the rear is a small kitchen. The bathroom is beside the cabins. The toilets are western style where you can sit on. The shower is a hand shower which operates by an electrical pump. The location of the sitting area is in the front. The Komodo Explorer Boat has a big sundeck for relaxing. From here you have a great view to all the white sandy beaches and tiny islands. Maybe you can also view dolphins and manta rays during you cruise.
The cabins are small and functional. Two bunk beds in each cabin with blankets, pillows and a fan are provided. You can charge your camera or mobile phone batteries with 220 V.
The local crew likes to offer a good service around the clock. The home cooked meals are delecious and fresh. Vegetarian food is also available on request.
---
Flores Overland Tours getting updated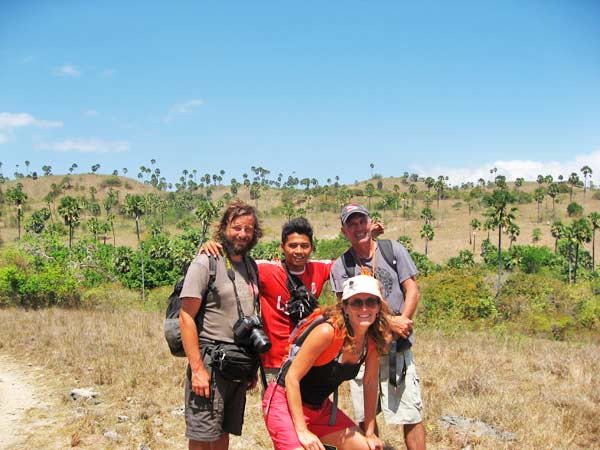 Based on our travel experiences and needs of our guests in recent years, we like to update, modify and add some tours across Flores. You should be more flexible in choosing different routes and attractions as well as in the length of your journey. Whether you like to do sightseeing-, hiking- or adventure tours, we have the right program. Beside our listed tours we can modify and create tours based on your special wishes as well. Just let us know!
In the near future we don't offer anymore public tours. We will focus on private tours only. If you like to join a private tour as a single person, please let us know and we try to make it possible.
To watch our activities please check out Flores Komodo Expedition on facebook.
---
3 Days / 2 Nights
driver - car - accommodation only
A three day overland tour to the Spiderweb Rice Fields and Ruteng, to Bajawa with its Megalith-Villages, to the Three Crater Lakes of Mt. Kelimutu and to Ende.
Starting point is Labuan Bajo.
9 Days / 8 Nights
all inclusive
Flores might be one of the less frequently visited islands in eastern Indonesia, but it still has a very well defined tourist trail taking in almost all of the attractions as Ikat weaving, traditional villages, hot springs, impressive rice fields and breathtaking volcanoes and lakes. The tour follows the amusingly named Trans-Flores Highway, winding and often little more than single track in places. Starting point is Maumere.
7 Days / 6 Nights
all inclusive tour
A seven day tour to the Komodo National Park, to Ruteng, Bajawa with its Megalith-Villages, the Three Crater Lakes of Mt. Kelimutu and to Maumere. All inclusive. Starting point is Labuan Bajo.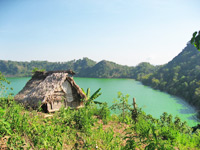 The West-Manggarai is an ideal higing terrain for eco-adventures. Steep mountains, deep crater lakes, impressive waterfalls and many remote settelments with wooden tiny churches invite you to explore this almost unspoiled part of Flores. A two days trekking and sightseeing tour starting in Labuan Bajo Flores.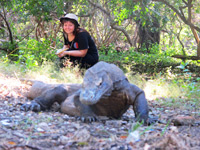 On this private tour you explore the Rinca Island part of the Komodo National Park. On a local boat you sail about two hours to Rinca, hike on the Rinca trail for one to two hours to see the Komodo Dragons and all other wild animals. Afterwards you go to several wonderful snorkeling sites before you head back to Labuan Bajo.
On a wooden buginese boat you travel from Labuan Bajo to Lombok and the Gilis or viceversa. Four days respectively three nights with several stop overs for snorkeling, sightseeing or hiking. Of course you are going to see the Komodo Dragons as well. This journey is a really special and low-cost alternative to flights to Bali or Lombok.