---
Flores Komodo Expedition is a specialised tour organiser located in Flores. We offer several tours on Flores and Komodo and explored already many beautiful Indonesian islands between Sumatra and Papua as there are Java, Bali, Lombok, Sulawesi, Sumbawa, Sumba, Komodo, Flores, Lembata and West Timor. Our tours are sustainable and ecologically oriented. We try always to involve the local communitiy in our activities.
We provide:
* Tours by private car with driver or also accompanied by a guide
* Expeditions in rural areas off the beaten path

* Guided volcano-, nature hikes and bicycle tours
* Boat crusises, snorkeling expeditions, cultural events
* Tailor made tours for families with young children
---
Last Updated on March 26 2016
---
New service structure of our travel programs
We were thinking of restructuring our service during your journey as we want to be more transparent to our guests. In the past we offered only the price for our main program. The site costs as National Park and entrance fees, donations etc. we mentioned to our guests, but these costs were not included in our price, The reason was that they varied almost every two month. Now it seems that the authorities have found their price basis so that the site costs are stable at the moment. We would like to include these costs in most of our prices. So you don't need to worry anymore what additional costs you have to pay during your journey with Flores Komodo Expedition.
And the best: meals and soft drinks are already included in most of our offers.
We know that we are not anymore competitive with our price structure to the published prices of other tour operators which don't publish the estimated total costs for your entire tour. However, We take the risk!
We are happy to offer you a good and comprehensive service without any hidden additional costs.
The new price structure comes in effect soon and will be marked in each program.
---
Finally the Wanua Adventure Cruise from Lombok/Gilis to Flores is back

It took us a while until we could offer the Wanua Adventure Cruise from Lombok or the Gili Islands to the Komodo National Park and Flores again. On a four day journey with three overnights on the covered deck of a local buginese wooden boat you explore increddible sights East Indonesia has to offer: Moyo Island with its mystic waterfall, Santonda Island with its gorgeous saltwater lake, Gili Laba with its fantastic viewpoint and of course the Komodo Dragons on Komodo and Rinca Island. It is a budget adventure tour for travelers who like to see many interesting sights which one can't see while traveling by ferry, car or bus and who don't expect too much comfort.
Just check out the cruise itinerary.
---
A three day overland tour to the Spiderweb Rice Fields and Ruteng, to Bajawa with its Megalith-Villages, to the Three Crater Lakes of Mt. Kelimutu and to Ende. Starting point is Labuan Bajo.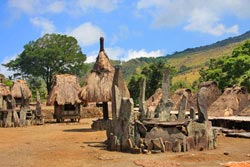 The trail follows the amusingly named Trans-Flores Highway, winding and often little more than single track in places. A scheduled nine days tour to Maumere, the Three Crater Lakes of Mt. Kelimutu, Riung, the 17 Islands National Park, Bajawa with its Megalith-Villages and Hot Springs, to Ruteng, Labuan Bajo and the Komodo National Park. Starting point is Maumere. Departure Dates are fixed.
The West-Manggarai is an ideal higing terrain for eco-adventures. Steep mountains, deep crater lakes, impressive waterfalls and many remote settelments with wooden tiny churches invite you to explore this almost unspoiled part of Flores. A two days trekking and sightseeing tour starting in Labuan Bajo Flores.

On this private tour you explore the Rinca Island part of the Komodo National Park. On a local boat you sail about two hours to Rinca, hike on the Rinca trail for one to two hours to see the Komodo Dragons and all other wild animals. Afterwards you go to several wonderful snorkeling sites before you head back to Labuan Bajo.
On a wooden buginese boat you travel from Labuan Bajo to Lombok and the Gilis or viceversa. Four days respectively three nights with several stop overs for snorkeling, sightseeing or hiking. Of course you are going to see the Komodo Dragons as well. This journey is a really special and low-cost alternative to flights to Bali or Lombok.

Seraya Kecil is a small picturesque island in the north of Labuan Bajo with excellent white sandy beaches. It is the ideal place to hang out on the beach. Here you are also able to snorkel and to explore the colourful underwater world in the crystal clear water.
Wae Rebo is the last remaining traditional Manggaraian ethnic village where still traditional houses exists and where people still live like their ancestors thousands of years ago. You can choose between a two day or three day tour starting from Labuan Bajo. You stay in one of the traditional houses among the local people.
A scheduled eight days tour to the Komodo National Park, to Ruteng, Bajawa with its Megalith-Villages, the Three Crater Lakes of Mt. Kelimutu and to Maumere. Starting point is Labuan Bajo. Departure Dates are fixed.



On this private tour you explore the Komodo Island part of the Komodo National Park. On a local boat you sail four hours to Komodo, hike on the Komodo trail for one to three hours and afterwards visit Pink Beach for sunbathing or snorkeling.
On a combined trekking and snorkeling tour we explore the Molo Strait, hike in the area of the "Little Matterhorn", visit a fisher village and snorkel near the beautiful islands of Muang and Robong. A tour exclusive organised by Flores Komodo Expedition to an area which is not yet touched by tourism.